What is the Earth Charter?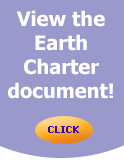 The Earth Charter is an authoritative synthesis of values, principles, and aspirations that are widely shared by growing numbers of men and women in all regions of the world.
The principles of the Earth Charter reflect extensive international consultations conducted over a period of many years. These principles are also based upon contemporary science, international law, and the insights of philosophy and religion. Successive drafts of the Earth Charter were circulated around the world for comments and debate by nongovernmental organizations, community groups, professional societies, and international experts in many fields.
To view the Earth Charter document please select the language of preference: